Ingenious Japanese technique to help tighten your hips
This simple exercise will help reduce your hips. It activates the adductor muscles or adductors of the thighs, all tissues of the lower extremities, the pelvic region, activates the lymphatic circulation.
The exercise can be done in any convenient place where there is a ball or, for example, a fairly thick book and a hard chair.
How to do the hip book exercise
I.P. – sitting on a chair. Keep your back straight. Hold a heavy ball or a heavy book – 5 cm or thicker with your thigh muscles, and hold the seat with your palms. You should hold the object as far as possible, starting from 30 seconds. Increase the time gradually. Repeat 2-3 times a day. Do this exercise regularly until you feel uncomfortable. After completing, it is recommended to walk, taking deep breaths.
What Other Benefits Of Exercise
In addition to lifting the thighs, the Japanese book technique has other advantages, because it works on the inner surface of the thigh – the adductors. The main job of the hip adductors is to adduce the hips, flex and extend the hip joints, and rotate the limbs.
What do disorders of the hip adductors lead to:
poor posture – protrusion of the tissues of the abdominal cavity and buttocks, violation of stabilization and advancement of the pelvis;
deterioration of gait – "duck", waddling or "waddling";
reduced flexibility – inability to sit on the twine, poor stretching;
psychogenic disorders;
increased risk of injury during active movement or sports activities;
soreness in the pelvic region – pain can occur in the groin, bladder, genitals.
People rarely associate the occurrence of painful sensations in the pelvic region with a weakening of the adductor muscles. Also, often violations of the regulation of sexual activity are associated with hypertonicity of the hip adductors.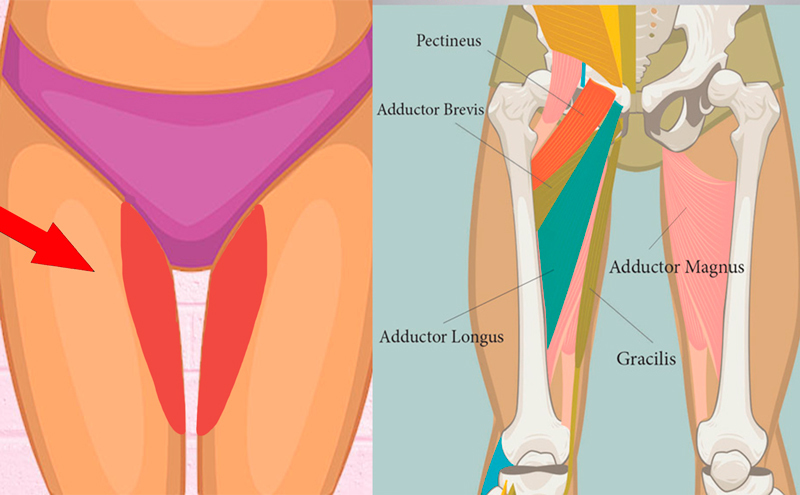 Pain in the groin and inner thigh muscles may interfere with abducting or moving the hips. In addition, pain syndrome can occur during intercourse. Sometimes these pains are so acute that they are confused with symptoms of inflammation in the pelvic region, other pathologies of the genital organs, or the genitourinary system.
Why book exercise helps you lose weight
All women, as a rule, the dream of losing weight and shaping their figure beautifully. One of the main problems is cellulite in the thigh muscles. Exercising the adductor muscles will help eliminate laxity and greatly improve the appearance of your legs. Flabbiness can occur due to excess weight or weakness of the adductor muscles.
In this case, the book plays the role of an expander. When performed, the adductor muscles of the inner thighs, as well as partially the gluteal muscles, are strained and worked out.