YOU'RE A LADY: HOW TO BEHAVE CORRECTLY IN ONLINE LESSONS
The remote control is not a reason to forget about good manners!
If the first (spring) distance learning program became something of a fun experiment for schoolchildren, then lockdown 2.0 is an inevitable reality that will really take some getting used to. And the new world = new rules.
We recently recalled the rules of etiquette that must be observed in educational institutions. Do you think you can forget about good manners now that school or university is your computer screen? No, of course not 😉 We are figuring out how to stay a lady in an online environment.
Use your real first and last name
In the personal account of the platform on which the classes are held, indicate your real name, not a pseudonym. The teacher should see that Ivanova Maria came to his lesson, and not "Pchelka007". You yourself understand that a pranker can be hidden under a strange nickname&nbsp, so the teacher has the right not to let a user with a dubious name into the classroom.
Do not be late
Always connect to the online platform a few minutes before a lesson or pair starts, not exactly at the scheduled time. Anything can happen: the computer suddenly turns off, the Internet turns off, something freezes … A real lady should always have a few minutes in reserve in case of any unforeseen circumstances 😉
Turn on your camera
Perhaps many of your classmates are sitting with the video and sound turned off – this is their business. Be the most fearless and self-confident. You are a beauty, there is nothing to hide behind a black screen! And according to the rules of good form, it is best to turn on the camera, because:
Firstly, it is a sign of respect: the teacher sees that you are attentively listening to his lecture, not doing other things.
Secondly, you will definitely be remembered. And this is a plus in karma. The more often the teacher sees you, the more he gets the impression of your involvement in the learning process. Especially if you periodically nod your head and answer the teacher's questions – it's generally super.
Thirdly, the video broadcast will help you to be more concentrated and not be distracted by all sorts of little things – after all, the teacher is watching.
Turn off the sound when not speaking
This will help avoid background noise, which will annoy everyone in the room. Ideally, only the speaker will always turn on the microphone. After the monologue, the microphone is turned off…
Do not eat
Although you at home, but still in class. All the rules that were in force at the school were not canceled, they just transformed into an online format. So no chewing gum, sandwiches, or chips – you can have a snack at break.
Don't lie in bed
Let your desk replace your desk or kitchen table. Lying either on the couch or even more so in bed during class is the height of indecency.
The dress code has not been canceled
Of course, you don't need to dress in a school uniform or business suit while sitting at home. But you cannot join the lesson even in pajamas. Therefore, choose something in between – discreet but comfortable. A shirt and jeans are great options.
An important point : never sit down to the computer in a shirt and underpants, as, for example, in the meme below. Too many factors can make you jump up and … Classmates will discuss your suit for more than one week 🙈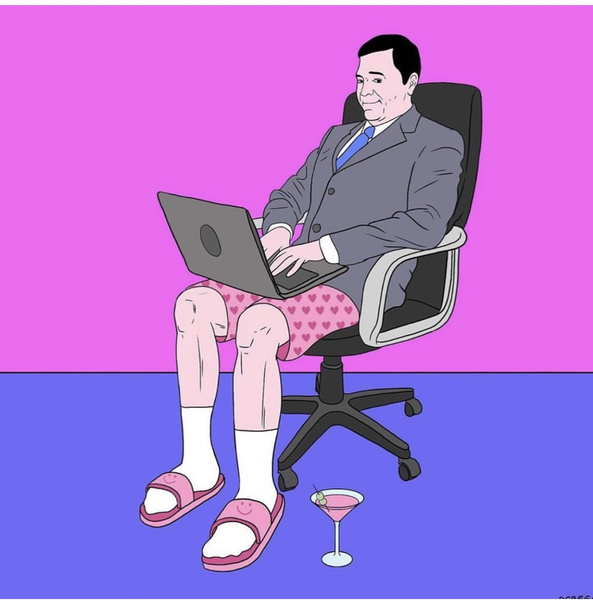 Close all unnecessary tabs before starting the lesson
It is better to do this so as not to be distracted by extraneous things and … so as not to burn anything during a possible screen sharing. If you have to show a presentation or your homework, and instead the whole class with your teacher will see your intimate correspondence with your boyfriend or an article tab on how to get rid of acne, it will be embarrassing.
Do not share the link to classes with friends outside of school and with strangers
In all these several months of the coronavirus regime, so many online lessons have been disrupted that it is impossible to count. More often than not, the reason was not the hooliganism of the students and schoolchildren themselves, but the pranks of completely "left" people. It may be fun for you that the unfortunate teacher will not immediately understand how to exclude bullies from the conference or stop the session altogether. But let's, all the same, treat the elders with understanding and respect. Less pampering – more action! ✊😂A sourcegiphy.com
So that you do not feel that you are going through this "quarantine test" alone, we promise you that we will also try to comply with the rules of etiquette of online conferences at our remote planning meetings 😉 We are ladies!